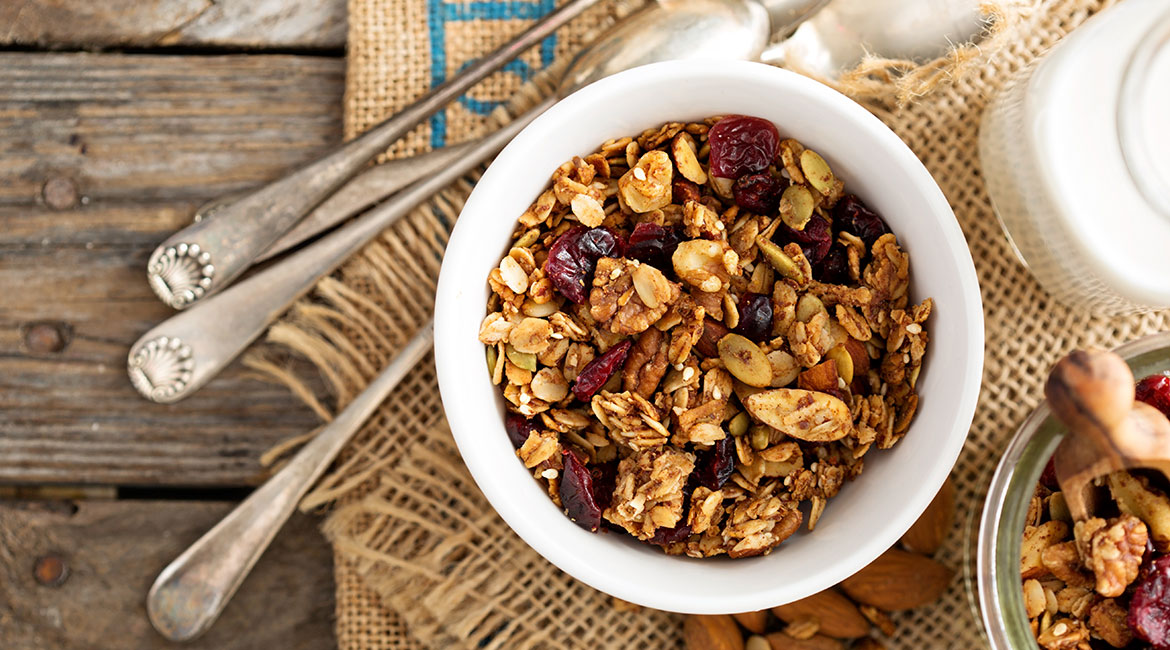 Maple, Pecan and Sour Cherry Granola
Ingredients
2 cups old fashioned oats
1 cup chopped pecans
1 cup Harvested for You Sprouted Pumpkin Seeds (pepitas)
1 cup unsweetened coconut shavings
½ cup golden flaxseed
½ cup sliced almonds
½ cup toasted wheat germ
¾ cup pure maple syrup
1/3 Cup light brown sugar
3 T. virgin coconut oil
1 ½ t. vanilla extract
½ t. kosher salt
1 cup dried sour cherries
Greek yogurt and berries or sliced fruit  for serving
Preheat oven to 375°
Toss oats, pecans, sprouted pumpkin seeds, coconut, flaxseed and almonds on a rimmed baking sheet.
Toast for approximately 10-15 minutes, stirring occasionally, until coconut is lightly golden brown
Reduce oven temperature to 300°
Transfer oat mixture to a large bowl and stir in wheat germ
Bring maple syrup, brown sugar, coconut oil, vanilla and salt to a boil in a small saucepan and cook, stirring occasionally until sugar dissolves – about 4 minutes
Pour over oat mixture and stir until coated.
Spread onto another rimmed baking sheet and bake until deep golden brown (25-30 minutes)
Toss cherries in to warm granola and let cool
Transfer to a large bowl or platter and serve with your favorite fruit or yogurt.
Store in an airtight container up to 3 weeks.